Get your family more active
Parents want to ensure their kids get outside and active. tgoma game system motivates your kids to jump more and play longer by providing high energy and educational games. tgomaFit, a fitness app for adults, tracks personal fitness goals, helping you jump into a healthier lifestyle.
Increase family time outside
Engaging together as a family at home is a challenge for parents. tgoma's games are designed to offer a fun physical workout for your entire family, which provides the opportunity to engage in interactive play with your kids, increasing quality family time in the backyard.
Education through active play
Providing learning opportunities at home for your kids is important. tgoma offers a collection of educational games that teach math, language, problem solving and trivia to make learning fun for your kids through active play.
tgoma allows jumpers to track their jumps and calories burned. Discover how active our community is worldwide!
tgoma games and apps are designed to get families outside and active, spending more quality time in the backyard. Our collection of high-energy games will get everyone jumping more and playing longer!
tgoma makes education fun! Studies show that kids learn through play. tgoma offers a collection of educational games that teach math, language, problem solving and trivia, promoting learning at home through fun activities that strengthen coordination and creative thinking.
tgoma isn't just about playing games! tgoma allows your family to set personal fitness goals, track your physical activity, participate in worldwide events and much more.
scroll to view more app features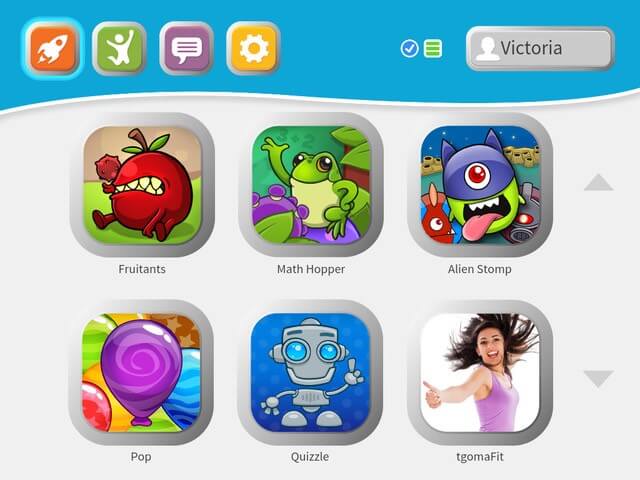 JumpFit
Access your personal jumping stats and set goals!
---
Easy to navigate for all ages!
News & Events
up-to-date with monthly worldwide events and local challenges!
---
Kid Safe Technology
Only bluetooth required for use while playing tgoma.
Activity Stats
Track your progress! View by number of jumps, time spent jumping, total jumped height and calories burnt!
Graphs
Keep track of all your activity! This is a powerful tool to manage your personal activity on the trampoline.
Set personal goals!
Jump 500 times? Jump for 10 minutes? A great way to use tgoma as incentive for kids to get active.
Review goal history
Achievement history is listed, so you can track your progress and set new goals!
Compete Worldwide!
Join jumpers from around the world in events and competitions. Can you be the best in the world?
Leaderboard
See how you compare to other jumpers worldwide! Stake your claim for glory in global leaderboards.
What sort of trampoline is needed?
What sort of tablet is needed?
Do I need WiFi in my backyard?
What is the tgoma system?
Your tgoma game system will come complete with: a controller unit with mounting plate (to secure it to your Springfree), Battery Pack (4 x AA batteries requried), Sensor & Cable Sets, Tablet Holder with Sunshade. As well as an Installation Manual. Please note: You will have everything you need, except for the tablet and 4 x AA batteries.
How do I get the tgoma app onto my tablet?
Where do I get technical support?